Post Classifieds
Supporting Workers' Mental Health
By NAPS (North American Precis Syndicate)
on September 23, 2020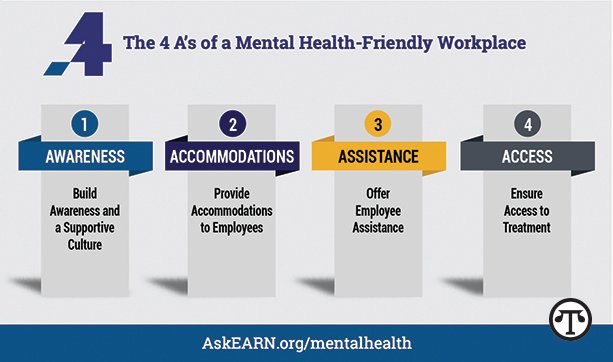 (NAPSI)—The challenges brought to daily life by the COVID-19 pandemic have spurred many businesses to consider ways they can support employees' mental health.
For help, businesses can turn to the Mental Health Toolkit developed by the U.S. Department of Labor-funded Employer Assistance and Resource Network on Disability Inclusion (EARN). The toolkit outlines strategies based around the "4 A's of a Mental Health-Friendly Workplace"—awareness, accommodations, assistance and access.
Awareness involves educating workers about mental health issues and taking action to foster a supportive workplace culture.
Accommodations means providing employees with mental health conditions with the workplace supports they need to perform their jobs.
Assistance refers to supporting employees with mental health conditions, something many businesses do through employee assistance programs.
Finally, access means assessing healthcare plans to ensure coverage for mental health treatment, which has been shown to benefit not only employees, but also a business' bottom line. According to the American Psychiatric Association, more than 80 percent of employees treated for mental health conditions report improved levels of efficiency and satisfaction at work.
The toolkit also includes examples of mental health initiatives implemented by businesses of varying sizes and industries.
Learn more at www.AskEARN.org/mentalhealth.
On the Net:North American Precis Syndicate, Inc.(NAPSI)
Get Top Stories Delivered Weekly
Recent pvpanther News Articles
Discuss This Article
GET TOP STORIES DELIVERED WEEKLY
RECENT PVPANTHER CLASSIFIEDS
HOUSING

JOBS

FOR SALE

TUTORS
For Panther reads thinking about LASIK surgery. Our LASIK Houston eye doctors are highly experienced and trained ophthalmologists offering LASIK vision correction options to patients in the Houston area. Your Source for
LASIK eye surgery in Houston
.